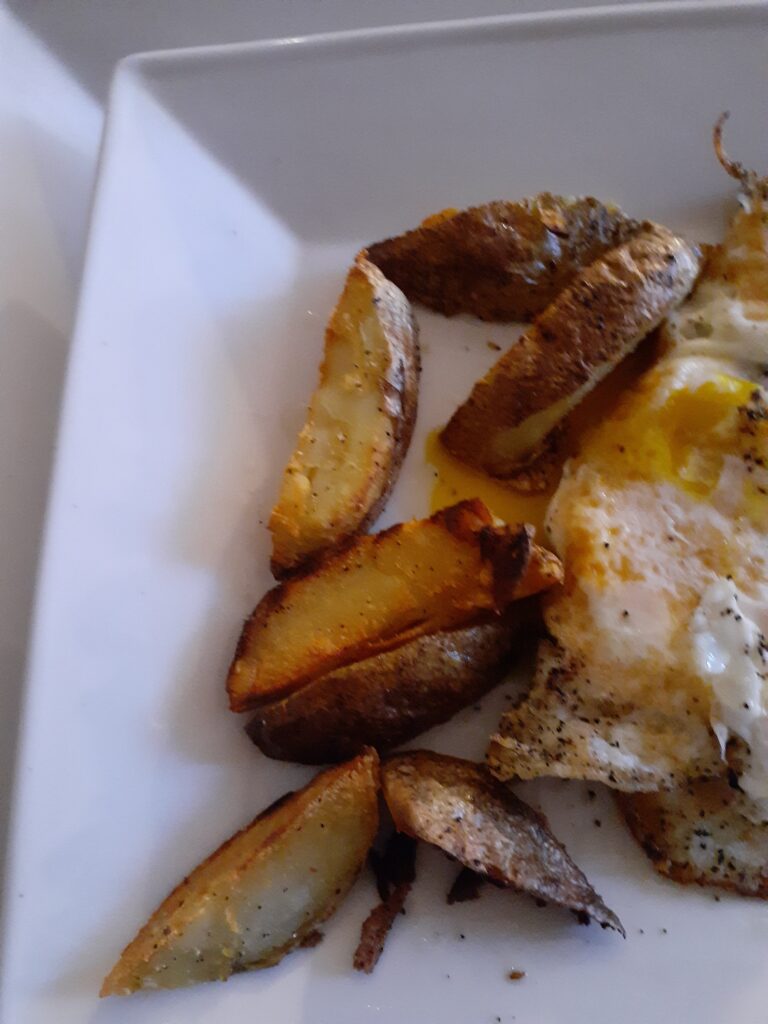 Once in a blue moon I crave some French fries and eggs for breakfast. Deep frying is a cooking method I stay away from basically because I want to live and long and healthy life. So far so good. I love to cook and I love food. Instead of giving up on something I like I seek an alternative method to reach the same end. In this case French Fries. Here's what I have found so far.
Scrub your potatoes clean. Dry well. Place medium size potato in microwave and nuke for about 5 minutes. I have this technique down pat as far as knowing how long to nuke versus the potato size. You want the potato to be cooked but firm. My readiness method is to stick them with a steak knife. If it slides in easily, it's ready.
Heat a small amount EVOO in for favorite pan. Just enough to cover the bottom of the skillet. Cut the hot, nuked potato in French Fried style slices. Place them in the hot oil. I sprinkle plenty of black pepper and even garlic. I skip the salt, mind you!. Watch while the potatoes turn crispy. Turn over. Watch. Remove. Eat. Five minutes in the microwave. Two minutes in the skillet and you have perfect and delicious French Fried Potatoes. You save the planet by not pan frying them in the oven. You save your heart and waistline by not deep frying them. Same end, better method.
Important note: once potatoes are refrigerated their glucose changes to sugar. Yes, you heard me, sugar. If possible, try buying potatoes that have never been refrigerated. Easier said than done. But, what the point of not eating cake and cookies and then eating a plain Jane load of sugar called Potato. Take care of yourself.
---
Advertisement
This Is The Best Offer We've Ever Tested All Time.
Resurge is the world's first and only anti-aging nutritional protocol that targets the true cause of unexplained weight gain, stubborn belly fat and metabolic slowdown.