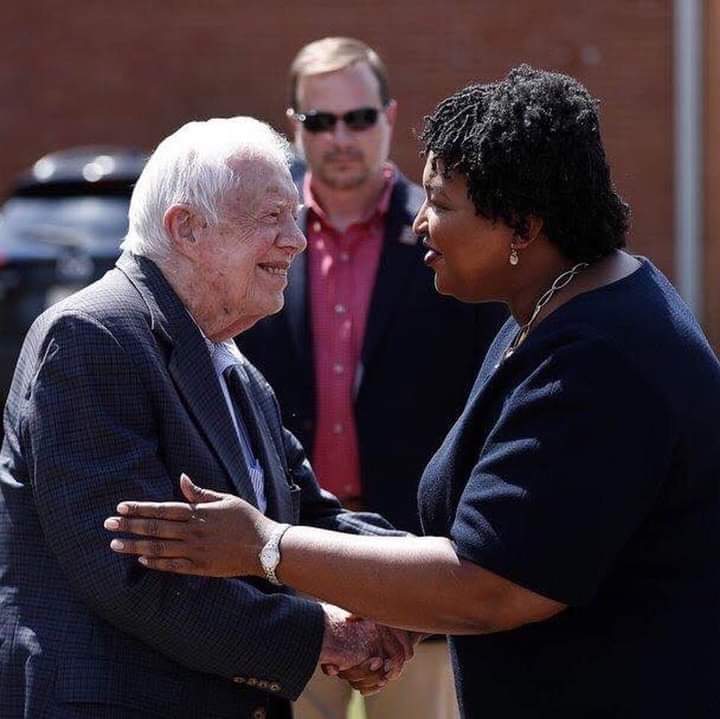 It's no secret that I admire and love President Carter. I think him to be one of the greatest statesmen to have served the United States. I also believe that his humanity is above the rest of us. Integrity and honor ring true when his name is mentioned. He shows himself as he really is. There are no hidden or secret agendas attached to President Carter. Time and time again he puts down his hammer and tries to knock some sense into us. Some listen. Most don't. I'm all ears because his advice and his warnings are foolproof. This, from a politician is a rare and beautiful thing.
President Carter is the model southern gentleman. He was molded by Georgia.This is his home and always has been. His four years in Washington were, once again, in service to his/our country. He did not go to the White House to get rich fast or lobby for this or that in exchange for something. He did not compromise unless it was a worthy compromise. He treated "the people" with love and respect. When his time was up, President Carter came back home: Georgia. Same old house I see pictures of him playing guitar, sitting in his same old front porch.
The beautiful state of Georgia has become the focal point of the 2020 Presidential campaign since the people of Georgia have returned to the mother ship, the Democratic Party. The people of Georgia have stood for decency and sanity and common good while they voted for President Elect Joe Biden and Vice President Elect Kamala Harris. We have celebrated like children with new coloring books showing the world our new Blue Peaches, the new symbol of the state of Georgia. From New York to California across the nation we sang along with Ray Charles. Such energy is seldom seen.
We owe this success, in great measure, to Stacey Abrams and her "take all" plan to convince and convert Georgia into a win for the Democrats, for all of us. Her vision, her work has been instrumental, vital, in this success story.
Now we sit at the edge of our seats awaiting the results of the Senatorial runoff election. These two senatorial seats are the only barricade between us, the American people, and Senator Mitch McConnell status as President of the Senate. The level of damage and lawlessness that McConnell has bestowed upon the United States is unmeasurable. He is a living, breathing threat and enemy to the Republic and all things that we hold sacred. Since we stand by our creed of law and order we aim at his heart, to vote him to the back of the bus by winning these two seats during this runoff. Impeach and imprison him for treason. The bad guys cannot win.
To reach these goals we need President Carter and the marvelous Stacey Abrams to do their magic. Alone, they are each forces of nature. Together they will bring us to the finish line. A totally Democratic Georgia. Failure would cost so many lives. This is a live or die vote. We can barely breathe with anticipation.
Let's come together again and push until we accomplish our mission. Godspeed Georgia, Godspeed.
---
Advertisement
This Is The Best Offer We've Ever Tested All Time.
Resurge is the world's first and only anti-aging nutritional protocol that targets the true cause of unexplained weight gain, stubborn belly fat and metabolic slowdown.